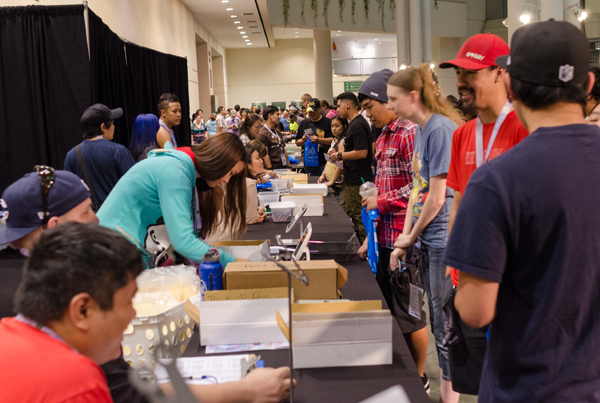 When it comes to Registration, you have two options. Either you may pre-register online, or register at the convention. Each has different procedures for picking up your membership badge, so please carefully read through the applicable set of instructions!
Definitions:
Pre-Registration – You purchased your membership online before the convention, or at an event before the convention. You will have a confirmation email from Eventbrite in your email inbox as proof of purchase. Your membership is a 3-day membership, meaning you can attend the convention for all three days from open to close. You will also be able to pick up your membership starting on Thursday before the convention.
At-the-Door Registration – You are purchasing your membership at the convention. You may purchase a 1, 2, or 3 day membership when you arrive. Please note memberships will only be available for the day you purchase them. I.e:

Thursday Night: 3 day memberships only available
Friday: 3 day memberships, Friday & Saturday (2 day) and Friday only memberships are available
Saturday: Saturday & Sunday (2 day) and Saturday only memberships are available
Sunday: Sunday only memberships are available.
Picking up your Pre-Registered Membership
Print out your Eventbrite confirmation email, or take a screenshot on your mobile device.
Make sure to pack your photo ID.
Check Registration Hours located at the bottom of this page. You can pick up your membership badge at any time during these hours.
Head to the Registration booth located in
Get in the appropriate Pre-Registration line for your last name.
Show the Registration staffer your confirmation and ID. They will give you your membership badge
Go enjoy the convention!
Purchasing your Membership At-the-Door
Check Registration prices, and decide on your membership.
Make sure you pack your photo ID.
Double check your funds, we accept both cash and major credit cards (MasterCard, Visa, AmEx, Discover)
Check Registration Hours. Please note that Registration does not allow purchases until a later time on Thursday.
Head to the Registration booth located in
Get in the At-the-Door Registration line

If you are paying cash, don't need a receipt, and only want a one-day membership, there is a special express line for you!

Fill out a walk-in form (you can get a head start by downloading it and filling it out before you arrive)
Trade your walk-in form and payment for a membership badge
Write your name on your badge (seriously, do this. If you lose your badge and someone turns it in, writing your name on it increases the likely-hood of getting it back!)
Go enjoy the convention!